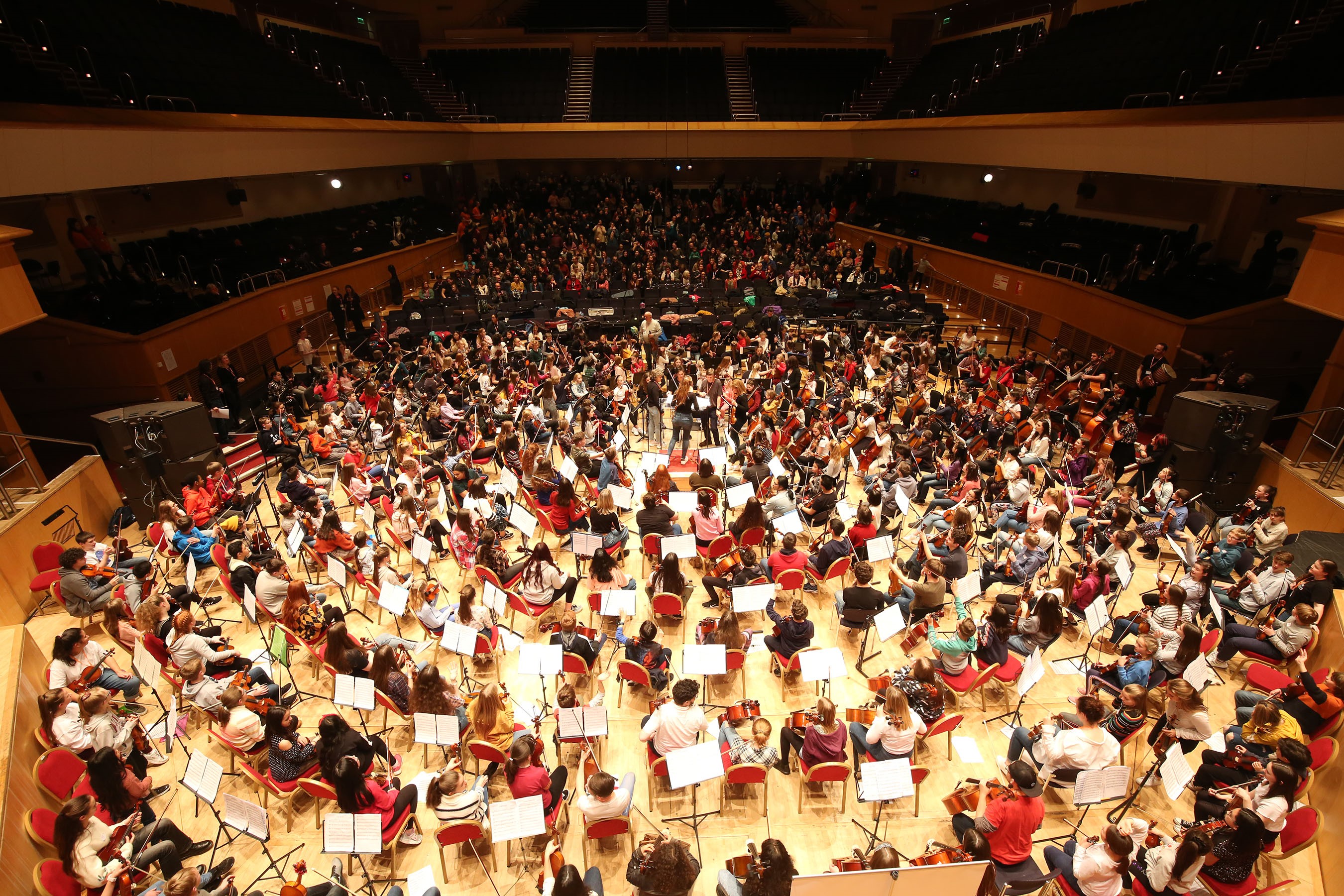 Benedetti Sessions
About the sessions
The Benedetti Foundation hold transformative orchestra-based workshops for young people and teachers that showcase what Music Education at its best can look and feel like. 
They are committed to uniting those who believe music is integral to a great education, and inspiring collective action targeted at increasing its reach and quality. They do this through uncovering and sharing its best practices and celebrating its greatest advocates, whilst loudly demonstrating a re-energised vision for the future.
They are fiercely devoted to pulling together individuals and organisations that too often work in isolation, and we carry out dedicated, year-round advocacy for the place of quality arts and culture in our schools and our homes.
The EA Music Service are delighted to be working in partnership with this inspiring foundation.
Our involvement
The Education Authority Music Service welcomed The Benedetti Foundation to Northern Ireland for the first time in December 2021.

 
The Benedetti Sessions hosted 135 young musicians of all ages and stages and instrumental teachers with participants from 10 out of 11 local councils of Northern Ireland. The Sessions approach music in a way that inspires fun and enjoyment, a greater sense of togetherness, a true abandonment of caution, and an embracing of scratches, scrapes and unapologetic flair, as well as connecting to creativity, to dance and rhythm, to harmony, bass and improvisation.  
The Beginners' Orchestra worked on two new pieces written especially for the Benedetti Foundation by tutor Joelle Broad – Thorntree Thunder and Amities. The Intermediate Orchestras focused on Mascagni's Intermezzo from Cavalleria Rusticana and the first movement of Holst's St Paul's Suite which was written specifically with students in mind and names after the Girls' School in Hammersmith where he taught. The Advanced Orchestra studied and performed George Walker's Lyric for Strings which he wrote in 1946 whilst still a student at the Curtis Institute for Music in America and the final movement of Holst's St Paul's Suite. Each orchestra also worked on creating an improvised work using the pieces they were performing as inspiration.  
On Friday 3 December the Foundation delivered workshops in two primary school in Antrim. The musicianship team led by Lucy Drever, recorded a 30-minute film taking young pupils on a musical adventure. The workshops were led by two of Foundation's dynamic tutors – Lucy Drever and Rosie Bergonzi – who took the pupils on a musical adventure. The students listened to music by James MacMillan performed live on the vibraphone by Rosie Bergonzi, composed and performed their own song together, played body percussion and had so much fun along the way. This workshop is being made available to all primary schools across Northern Ireland and will be shared by the Education Authority.   
Nicola Benedetti commented, 'There are no limits to our learning possibilities through music. We just have to be curious and open-minded enough to notice that this language is as rich as life itself, and we aspire to expose our participants to this. The young people from across Northern Ireland were so focused, listened intently, created a real sense of community and developed so much over the course of the weekend. Before our eyes the brilliant team of tutors and ambassadors witnessed our young musicians delving deeper into their instruments, as well as constantly asking the most inquisitive and intelligent questions. The end result was phenomenal, and we are so so proud of what they collectively achieved.' 
Darren Canmore, Head of Music Service at Education Authority, commented, 'A fabulous weekend of music making delivered by Nicky and the Benedetti Foundation! Our children and young people 'buzzed' with excitement as they played with one of the world's leading musicians. Nicky and her team certainly got the best out of the participants through their enthusiasm and passions for music engaging with all, regardless of ability or experience.'   
Instrumental teachers also benefited greatly from workshops delivered by Nicky and the Foundation tutors, discussing and developing skills and techniques to enhance music education.  
The EA Music Service are delighted to have partnered with the Benedetti Foundation to provide a wonderful musical experience for string players and teachers across NI, and we look forward to working with them again in the future'  
Photographer: Alistair Firth, Glasgow
In 2021/22 we were involved with