Ulster Orchestra Professional Collaboration
The EA Music Service is delighted to announce an exciting new collaboration with the Ulster Orchestra.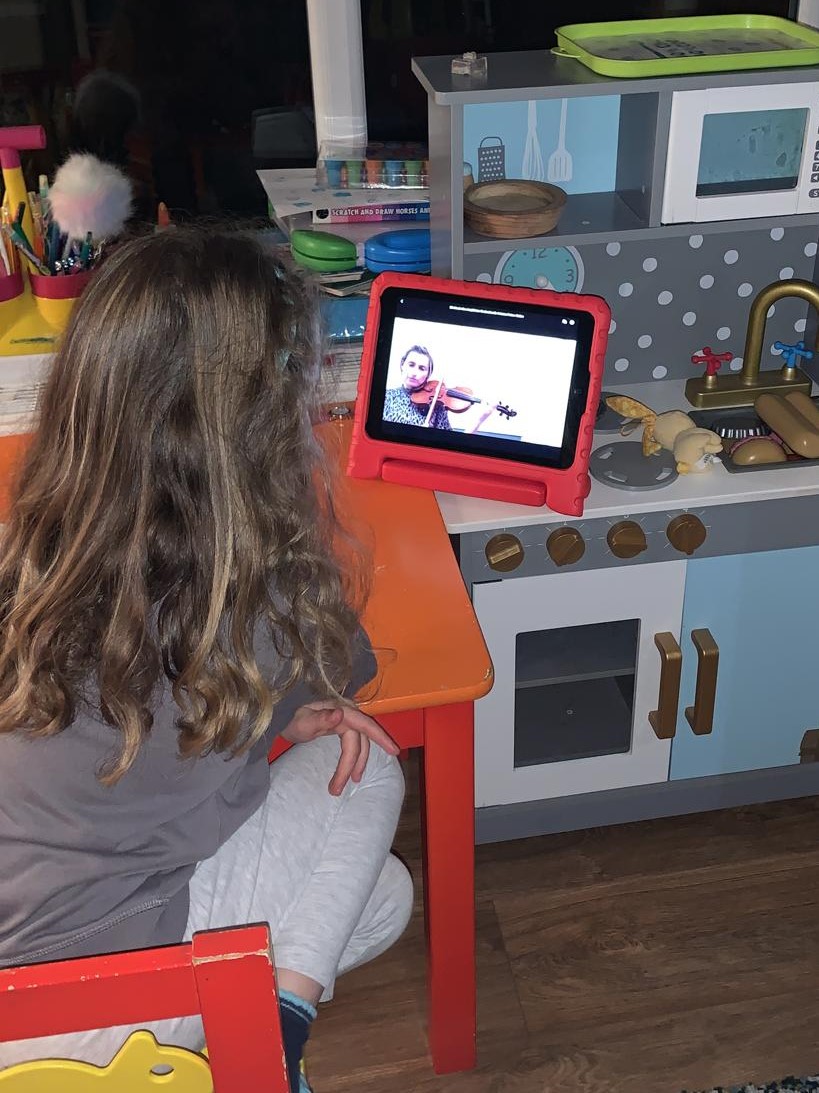 The Music Service/Ulster Orchestra partnership was launched on Monday 23rd November 2020 with a very successful live online webinar featuring Ioana Petcu-Colan, Associate Leader of the Ulster Orchestra.
This was the first in a series of live educational events to be broadcast by the EA Music Service.

 
Darren Canmore (Interim Head of Music Service) hosted the webinar on Microsoft Teams Live. 
This was a wonderful opportunity for our young musicians, right across the Northern Ireland, to expand their learning and experience the insight and expertise from one of Northern Ireland's leading professional musicians. Ioana captivated her audience from start to finish.  I am very excited about this newfound partnership between the EA Music Service and the Ulster Orchestra, and the potential it has to make a profound and positive difference in the learning and lives of our children and young people.
Music Service students and staff attended this online event to hear Ioana perform and take questions on technique, style and performance preparation.  Ioana also provided the audience with some interesting background to her performing career and revealed her greatest musical influences.
Ioana Petcu-Colan
This is a fantastic, forward-thinking collaboration between the Ulster Orchestra and the Education Authority and I'm honoured to have been involved in this first event.  The silver lining in the cloud that is this pandemic must be technology and its ability to dissolve boundaries - communication and education are now possible wherever we find ourselves, and we are never done learning. 
The EA Music Service has worked closely with Colin Stark, the orchestra's education liaison, since March 2020 to develop and plan a number of events aimed at motivating and inspiring young Music Service musicians across the province. 

 
Colin Stark (UO Education Liaison) 
 I'm so lucky to have been a student of the Music Service and thanks to those formative years am enjoying a lifelong career as a performer and educator.  Since the Ulster Orchestra was formed its musicians have been a wonderful resource for young people.  This collaboration will enable the partners to deliver the joy and power of music in a richer, more strategic way. 


One attendee, a grade 7 Viola student, commented, 'This event was very helpful for setting myself realistic but ambitious targets for where I want my viola playing to be in, say, 5 years; and it was also inspiring to hear such a virtuoso violist in such a unique environment.  I can't wait to attend more events in the future.'

Further events, featuring other orchestral departments, are due to be broadcast over the coming months.
In 2019/20 we were involved with